KP62 Starlet
(ex daily driver)
---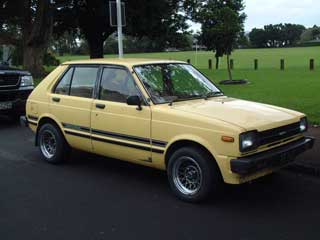 Bought the starley after the warrant-of-fitness ran out on my ke25 SR corolla.
I had been using this as a runabout car while building the ke25 SR corolla but was then replaced by another ke25.
It's a 1983 KP62 RWD 1200cc Toyota Starlet 4door in yellow.










I bought it off an old lady who has owned it since 1984! The body was pretty straight. now with a few added minor dents. (not my doing) The front and rear bumpers are a little bent too. funny how its everyone else that manages to dent your car! Rust is minor, though there's some grey primer where some rust has been cut out. It has had an attempted break-in since I've owned it. I had to replace the door locks. Rust repairs were done on the battery mount, wiper-motor mount, B-pillar and rear hatch lip.
14.12.01 did an engine swap to keep it going. 3k needed a new timing chain. was cheaper to transplant the 2k I had once running in my ke25 SR. easy conversion as they're the same engine basically. I even used the 3k intake and exhaust on the 2k with no hassles, runs fine.
2?.09.02 4k transplant! 2k decided to blow up one day. I should've done that swap from day 1!! heaps better performance than the sad-excuse-for-an-engine 2k, but can't complain for a $60 engine. put the k50 in too but needs a rebuild so put k40 back in.

Mods completed:
ramflo airfilter (single carby)
cut a coil out of front springs (hee hee)
new front shocks
removed most rust
2k transplant (stock 3k needed new timing chain)
4k transplant (2k blew up)
toyota 'pointies' 14" alloys
alpine cd player & alpine 4" speakers
electric dizzy (ex ke70 4k-u)
twin carbs (ex ke25 3k-b)
semi-sealed headlights (ex te71)

NOTE: ramflo's seem to do the job but are not oil resistant as I've found out =( there's a fitting on them which are supposed to hook up to the rocker cover breather. -In doing this the oil eventually turns the filter to mush. so it is wise to use an oil catch/filter can before the filter.