AE82 FXGT 4AGE 20v
---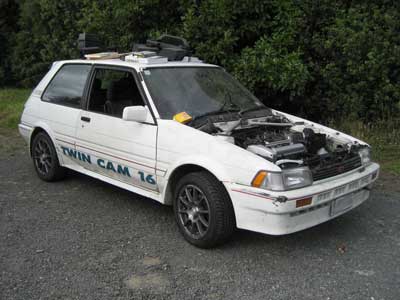 1986 Toyota Corolla FXGT 20v 4AGE & C52 manual conversion

Another project on the go. June '08 I completely stripped a 1991 ae101 Trueno 4age 20v + C52 5speed. Then a month later, ended up swapping my unstarted ke70 DX wagon project for this ae82 fxgt with blown head gasket and hole in radiator. So have now put the running gear from the ae101 Trueno into the ae82 FXGT. The car will be used as a daily hack.
I've done plenty of research to see if there would be any difficulties in the 20v conversion. Didn't find any detailed conversion info but everyone in toyota forums has basically said it all bolts in using a mix and match of ae82 and ae101 parts.. then have fun trying to wire it, ha! This i can do. I'll detail as much as I can of the conversion to help others do the same.
More info on
www.ae82.net
and
www.forums.toyspeed.org.nz
(need to register)
The ae82 is now back on the road with a few things left to finish it off.
Completed so far...
C52- replace 2nd gear synchro and repair worn 2nd gear hub
Auto to Manual conversion.. swapped in the ae101 C52 manual box & ae82 hydraulic clutch system.
4age 20v refreshed and installed
Engine wiring spliced and joined
ae101 radiator installed
ae92/ae101 front and rear strut/brake upgrade
ae101 fr calipers, ae93 258x22mm disks
Lowered on King Springs
13" steelies replaced with 15" alloys
20v extractors (std) into 2.1/4" exhaust incl 2x 18" long resonators and muffler with restricter tip
Put car back together
wof & regn
Yet to do...
Tape up engine loom, make extension loom to mount ecu under center console.
Rust, paint.
Future...?
C160 6speed (ex ae111 carib 20v) or C56 to replace the crunchy 3rd gear C52
Probably sell it to concentrate on other projects