1971 Toyota Corolla KE26 1200cc wagon (estate)
Daily driver/parts hauler/weekend cruiser...

Current SPEC LIST
4K Engine Rebuild page
latest update at top:

22.06.11
Been driving this daily since new year 2010. Also it is now classified as a 'classic' being over 40yrs old so that halves the registration costs! =D Now found a 7k-eu intake manifold to convert to efi (for the 4k-ze build) cheers Glenn :) Have bought a full set of nolathane ke26 urethane bushes yet to be fitted. Latest fix was to replace the 4k carb with the NZDM 5k carb as it was leaning out and knocking on the primary jet. The 5k carb has diaphragm operated secondary velocity flap which i find is less responsive than the older style weighted flap. I was having issues with exhaust flange leaking (corroded flange face) so CNC'd a new one to suit the km36 5k flange and adapted it to my 2tgeu secondaries. Have now swapped in the km36 exhaust manifold which has an oxy sensor (for tuning purposes). I welded the intake heat port shut to stop exhaust leaks there. The EGR port is plated over with an oem NZDM 5k cover plate.

K-T upright bell housing under development

The k50 box has gradually become noisy over the last year. 3rd and 5th is the worst, but 4th is fine. Until one day the speedo stopped working. This was traced to a munched speedo driven gear on the box. Then a week later I decided to pull box due to lumpy/wobbly sounding 5th gear which was about to self destruct.. turns out the output shaft bearing failed. Probably has a worn layshaft bearing too. So replaced the k50 by swapping the kp61 tail housing onto a ke70 k50, gave the clutch a ruff up with emery paper (it was slipping a bit) and all good again.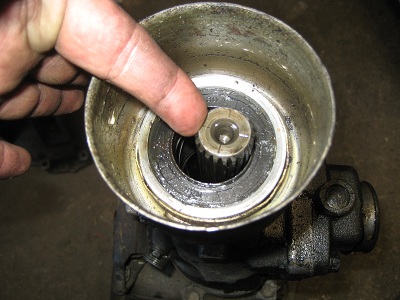 30.03.10
I have new toys! bought some twin downdraft dellorto drla 36 carbs fitted a home made K series inlet manif off trademe. These were apparently running on a 4k so with any luck they'll run on the 5k after a bit of a clean up and a tune =D until the new engine is finished that is.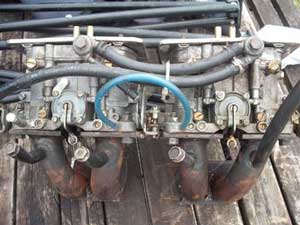 22.03.10
Solved stud clipping issue. caused only by the restud to larger pcd (110mm - 114.3mm) and reasonably worn bearing. so stud heads needed a slight trim for clearance. The 14x7's have yet to rub on wheel arch since putting ke2 axles back in. happy! Getting driven daily now and heading to the odd event (jap meet). see events gallery.

08.03.10
Got wof after a few issues with rear brake cylinders seized.. four years off the road does this. Watanabe's (14x7) fitted and are rubbing a little on the rear arch with 175-65-14 tyres (ke36 diff). So I have re-drilled ke2 axles to 4x114.3 as well as the ke2 drums and fitted them to the ke3 diff housing thats already in the car. This narrows track 20mm total compared to a complete ke3 rear end. unexpectedly axle studs are 'just' clipping the ke3 brake slave cylinder. I'm swapping in the ke2 housing anyway so will be comparing ke2 brake parts and find out what's different. This mod will now bring rear track (and diff) back to original ke26 spec. ke3 housing adds about 15mm and ke3 axles 10mm each, roughly 35mm total width. will add pics in next update.
06.02.10
5k now fitted along with a kp61 k50 box. Drove it to this years 'new year classic jap meet' at Bellagio Cafe.. made me late getting brake master rebuilt but got there at least! Didn't enter rotor nats due to time restraints and lack of fresh paint job.. but next year be entering all going well. Tried on a few wheels.. big thanks to ewan at hayatonka.com! not sure to go with starsharks or watanabe's.. or rays mesh or ssr reverse mesh or hayashi command. arg. Apparently wof guy didn't like my 155-50-14 tyres.. too low he said. bah! New K-T upright bellhousing design well underway.. very excited about this =D


01.07.09
sc14 seemed a bit overkill so bought an sc12. Checked out fitment of sc12 on std aircon bracket when frog dropped round in his 5k ke70 wagon.. looks like a bit of work to get lined up using std fan belt position.. custom bracket seems the go. The ke26 should see some love soon.. with any luck have it painted in time for christmas holidays and engine build well underway.

15.03.09
4k rebuild has been put on hold whilst kp60 bugeye starlet being maintained and 20v conversion in ae82 completed. A slight change of plan now.. I have picked up an sc14 supercharger from a toyota estima 2tz-fze engine for the 4k and also want to change to efi.. just a small change honest :) I hope to have this car panelled and painted with engine mods done in time for the 2010 "NZ 4 and rotary nats". Time will tell!

03.05.08
Currently rebuilding the 4k sourced from a kp61. although it has low km's.. it still would've leaked oil being 27yrs old. So the decision was made to give it a quick refresh job. see 4K page. Engine was stripped and thoroughly inspected for wear. most things good running cond. Then new seals, gaskets, chain + dampeners and all bearings ordered from www.staparts.co.nz The only wear apparent was some scuffing on sides of pistons but are well within tolerance. The block, crank, pistons, rods and head were sent away with my flatmate (cheers mike) to get cleaned in a decarburising bath, which came back much nicer than they left! Other parts and brackets have all been degreased and either painted or cleaned/polished ready for assembly.

12.08.07
Still parked up. Bought a 4k and k50 from a NZ new kp61 starlet sprint with 136k on the clock :) so will chuck it in since the current 4k has a sticky valve and low compression. bought some TE28 steering arms out of Hawaii to go in with the new struts. woot

14.10.06
Parked up for now and put on backburner since the ke70 is on the road. Want to get all rust proofed and painted before it gets wet. Have picked up a 3.7:1 ratio 6.7" T302 live axle diff head from sa60 celica (thanks callum) for an ST185 GT-Four torsen lsd to go into. As you can see i'm wanting a stronger diff for reliability if i'm ever going to put a 2tg or 4ag in this thing. Not sure if i get the te71 disk brake diff shortened with later type T series axle splines adapted on or shorten a T series drum diff to suit.. it won't be for a while anyway.

06.06.06
I thrash the living crap out of this thing and i cant kill it! just wearing out slowly. I've put the 4k carb back on after blowing out the jets, runs fine and I get the induction noise back :) Recent compression test 100psi on all four cyl hmm way too low. Have bought and fitted some ae85 struts with the 9" solid disks. Have used ae86 p/s 115mm long arms sitting on a 1mm shim wrapped around the ke26 ball joint which is a temporary fix till te27 arms come in from the states. Bought new Tokico ae92 GT gas filled shocks which are spaced up inside the strut and gives a good 2" shorter stroke to keep the king springs captive. Unfortunately camber is now 1.5deg positive which is forgiving in the dry but an ass to keep straight round corners in the wet. Camber plates required and eventually will swap to vented ae86 disks and calipers. See tech section for a more detailed article on the swap. Have now made a 2" press bent exhaust. Using up all the old te71 exhausts... managed to chop and swap bends and tig weld together to make quite a nice system. First incarnation used two resonators.. one in middle, the other on the end which ended up way too loud. click here for a vid of lumpy idle and rev noise heh. A quick trip to pick-a-part scored me a near new 2" straight through barrel muffler out of an aw11 mr2 for $10. welded a 2.5" bend on the exit and noise is bearable. Yesterday i had my jammy bastard pants on again and went wrecker bashing (well pinch-a-part anyways) and scored an st185 celica gt-four torsen irs lsd which i am pleased to say does fit a T series live axle head. I doubt the 2.9:1 ratio pinion gear will physically fit in the live axle housing tho (have yet to try..) ratio too tall anyway. The down side is because this is a early 90's head, it wont fit te71 or any T series 6.7" axles for that matter.. these are larger than the late ae86 axle spline so custom axles required. As there are suitably sized axles in larger diffs that can be modified, it wouldn't be too hard to turn/cut a spline onto an E or F series axle and swap axle bearings to suit the housing. I have a spare ma45 housing which i plan to shorten and fit disks/calipers/backing plates to convert to 9" te71 disk which are spare.


Added some accessories... 13x6 and 13x6.5 SpeedStar's for some more jdm'ness. genuine TRD gearknob (moulded rubber leather look ball). KE25 SR Coupe tacho woodgrain dash fitted.. wiring was there already from factory so just plug in and go. KE25 delux drivers seat fitted because I kept sliding out of the wagon seat :( Car now sits 2" lower from blocks installed in the rear and king springs up front. (shocks need shortening up front to fit these). starting to have an engine conking problem. fitted a facet pump to bypass mechanical fuel pump. run hell rich and is overfueling so need a regulator on it. fitted a km36 jdm 5k-j liteace carby which has a 26mm venturi compared to my 25mm 4k carb. This seems to have rid me of the conking out problem so i could've had a blocked jet or something. With all the emissions and ancilliary devices not correctly connected yet its doing a couple funny things.. waiting for emissions diagrams to fit cold idle up diaphragm. Theres a fuel level veiwing port which is how i found the facet pump has too much pressure and running the fuel level too high. The automatic choke working good but in our weather i could pull it off and still not have any starting woes. not sure if i like the diaphragm operated secondary throttle tho.. seems to have taken away the intake roar and doesnt kick in early enough. Have fitted the km36 Liteace egr intake manifold but plated the egr system off. have now added a liteace 5k carby intake pipe adapter with a pod filter hanging off the front.. this sounds horny at full noise... say goodbye ramflo! :D compression low on 1 and 4 tho and geez does this thing guzzle gas. need another k motor :( cheaper to replace than rebuild.

01.01.05
Progress finally.... have modified some TE71 2tgeu exhaust secondaries to fit. have cut off the 2t manifold flange and welded on a 4k flange. Found the secondaries to be too tall between the manifold flange and corner bend so have cut/weld them shorter so they're not the lowest point on the car. Have also cut the single pipe shorter and next step is to make up a section to fit past the gearbox and crossmember and join up with original exhaust. hmm all this just to change from 4into1 to 4-2-1. Have done a front stud pattern conversion... using a ke70 hub and a new wheel bearing kit for KE30 (inner bearing is bigger than ke2) it was a bolt in job by swapping the original ke26 disk onto the ke70 hub. only problem i found was the inner seal is a different size between the two cars (ke26 = 40x52x7. ke70 = 41x53x7) and an in between size seal was not available from local seal shop ie 40x53x7. have used the smaller size seal and urethaned the seal in position but fitted the hub to the stub axle before it set so that the seal could centre itself inside the hub. dodgy but better than nothing at this stage. not sure but ke3 hubs may have similar inner seal size as ke2(?). Spent many hours playing around with various ke70 brake upgrade options and also te71 and ae86 front brakes but no bolt in configuration could be found for the ke26 strut. will be writing up a tech page for this mod eventually. the front grill trim has been taken off and a replacement mix of ke2# parts have been fitted in the mean time. These have been given a quick paint in htv silver for colour matching. thanks tup and nayray for your help



.12.04
have swapped my 5k for a 4age + cash so probly eventually do a conversion to either 4ag or 2tg when the time is right. after pulling the diff head out, found the oil to be a mucky metallic silver so decided to give it a good clean out. pulled the housing out, steam cleaned it inside and out, painted it black along with the drums and back plates. installed a kp61 3.3:1 ratio diff head but had to use two long studs and nuts on the back of em to fit the diff, cant run split washer as diff oil leaks past it. (the ke36 diff head studs had a head on the back of em and are pressed in like a wheel stud, whereas the starlet housing had screw in studs). with that done i checked the brake cylinders and found them to be seized. stripped them and luckily werent rusty, but had what looked like oxidized grease in em.. so cleaned em up and reinstalled. fitted new axle seals and new brake shoes and reassembled it all, filled with oil and bled brakes etc so diff ready to go. found the front 'stud adapters' were nothing more than 8mm spacers with longer studs and jammed out to fit the 4x114.3 corolla steelies!! dangerous mod! so will be changing to ke70 front hubs soon. next is exhaust as i wanted to change to 4-2-1 manifold but dont have the secondaries...

18.10.04
Was given another 3k engine so that has been swapped in as the old one had an annoying knock. Just need to replace U series diff head and it should be reliable runner. Have removed the front corners/indicators and head light surrounds for safe keeping... too hard to find replacements.. and easily smacked into =( looking at making up fibreglass moulds to make a few to sell off and maybe find a similar styled late model indicator to fit em? need some interest in this to make worthwhile tho. Picked up a Jensen/Healy instrument cluster full of oldschool period 'Smiths' gauges so lookin into fitting them. mmm 225km/h speedo, 8k tacho, oil pres, volt etc. May have found a 4age for it too =)


degreased replacement 3k with ke35 k50 5speed box fitted, and oh look its red.. must be fast??? =P

Been wanting and waiting to find one for some time! It will replace the white ke25 coupe as it's more practical to cart parts around and go road trippin! Happened to buy it on my 23rd birthday so its gotta be the best ever pressie =) Has been owned by an elderly couple for half of its life so was well looked after and been garaged. Cant find any major rust holes, only some repairs and surface rust in places. A few dings in places and a respray on r/h rear 1/4 panel, otherwise paint is original yellow. Previous owner (of 3 total) had replaced diff with a ke36 one and installed a k50 5-speed from a 79 corolla so I'm guessing a ke35. Front stud pattern has been changed with hub adapters. wheels are 13" steelies. Am really happy with it and plan to keep it reasonably original except for engine & drive line as they need a little work.

pics - first bought