Powered by a 2.8ltr 5MGE DOHC 12v efi 6-cylinder driven through a W57 close ratio 5-Speed box, 3.7:1 ratio 7.5" LSD.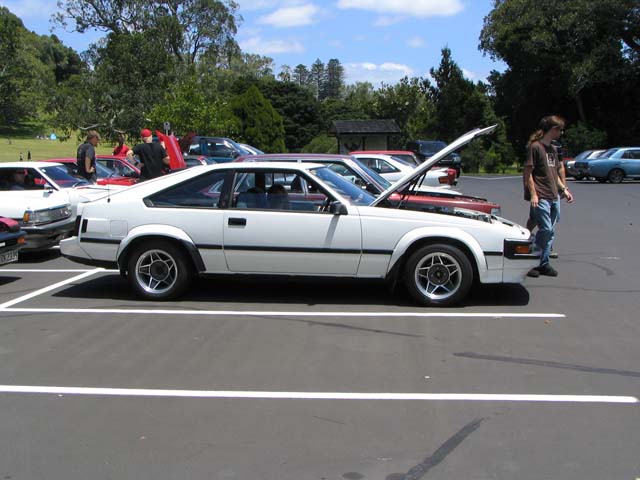 Sold
30.04.08
Got around to doing some more maintenance before handing over to new owner. why i hadn't done this long ago im not sure! Passenger window adjusted so no more annoing whistling at high speed, stripped old foam from center console lid and replaced with good one ex mz11 soarer, refitted shifter boot so no more engine bay fumes and hot air! refitted gauge cluster, under dash panel, steering column surround, center console, rear panels, passenger kick panel... blah the list goes on... things i'd removed to do repairs but not got around to fitting back together. Replaced cracked spot light (thanks dave for the part!), replaced driver seat backing panel (thanks again dave!), rust killed/primed area around aerial hole. seam sealed panel below windscreen from previous rust repair, removed cam cover & check for cam wear (was good) yay for P-type 5mge, sealed cam cover from leak, cleaned out junk and vacuum for new owner (aren't i nice). tis a sad day.. loosing my nicest, quietest, bestest cruiser. Had to pay for my holiday fair some how. doh

12.02.08
going overseas for a holiday. need to sell a couple projects. will be doing a few things to tidy this car up.

26.10.07
Rust repair on 1/4 panel finished..took my time heh. Fitted some 15x8" Performance Challengers with 225-50-15 tyres. Found that NZ new ma61's have no emissions gear whatsoever! not even a tank vent up to the engine intake. The tank vent pipe pokes into the chassis just ahead of the fuel tank with a little one way valve(?) or filter thing on it. this seems to hold pressure to the point of leaking fumes out elsewhere which is why i can smell it. arg. have removed valve thing which has stopped fuel smell. :)
18.06.07
attacking rust on the rear 1/4 at the moment before going for wof. Cranking over engine got worse to the point of a 'click click click' and occasionally starting. Battery is awesome so pulled the starter motor out and sure enough the copper contacts on the solenoid were poked. Replaced em and starts easy as :) bought an air/fuel meter for it.. still using lots of gas but also found the gas tank is pressurising and can smell petrol fumes, uh oh. Dropped into Bozo king Nige and tried on his 15x10" steelies mmm.




04.03.07
Swapped digi dash for another one and it didn't work at all hmmm. Installed cruise control linkage which was missing.. still not working doh. When cranking engine.. starter slows down and speeds up like it loosing power yay more maintenance!

Installed stereo woot. Fitted air-con belt which was non existant, but compressor still not switching on for some reason arg??

15.02.07
As always, old cars need maintenance, and this one's no different. Have had a couple weeks now to suss out what needs looking at.. and so far have found the exhaust manifold is cracked, causing me to get fumed out, cold idle up not working, aircon belt missing, occasional puff of smoke on startup, smells like it running rich, backfires on decelleration, splutters when accellerating cold. With foot on brake pedal when car stopped... pedal gradually depresses to about half way which means master cyl loosing pressure? Electric aerial rusted solid and no stereo fitted. Digital dash seems to lose power when accessories or lights turned on?? LSD is worn to the point of not working, tramping a bit whilst wheel spinning, paint sun parched, surface rust in places, some rust in sunroof, rear 1/4 panel needs attention and in need of some suitable rims. But apart from those the car seems to be all original P-type spec. Thanks go to Tup for donating spares from his ma61 CelicaXX parts car. Have now got an uncracked exhaust manifold with oxy sensor fitted (NZ spec ma61 has no cat converter or oxy sensor), spare cam covers to paint/polish + more. At the moment fueling seems excessively on the rich side, so plan to install air/fuel meter to check on fuel ratios and maybe tweaking the afm to suit. But not before removing and testing injectors for leakage! Plugs now cleaned and gapped, compression tested at 160psi on all 6, timing all good. sweet